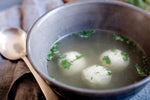 The Italians know how to turn yesterday's bread into today's feast. These dumplings with breadcrumbs are delicious served in this light broth, but they can also be topped with butter and cheese and baked in the oven like gnocchi alla Romana.  Here is one of Phillippa's favourite family recipes. Use good white bread, but preferably not sourdough as the flavour can be a little strong. Ingredients: 60g chopped pancetta 2 Tbs chopped chives, plus extra to serve 1 small clove of garlic, peeled 2 eggs 120g pecorino, finely grated, plus extra to serve 120g fine fresh white breadcrumbs freshly ground...
---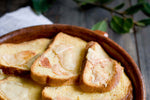 Recipe From Phillippa's Home Baking  This was invented one day when there was a lot of leftover Italian panzanella salad. It was served in a terracotta dish at lunch which went into the oven with a roast that night. The result was stunning. The ripe tomatoes and olive oil had soaked through the bread so the bottom half was thick and sauce-like and the top crisp and deep golden. It makes a great accompaniment to BBQs and roast meat and works best when using really ripe tomatoes, preferably home grown heritage tomatoes. Ingredients: 8 ripe medium tomatoes, cored and roughly...
---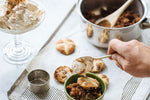 This recipe is based on Sally Clarke's Apple Brown Betty. The flavour is much improved with the use of our spicy Hot Cross Bun for the breadcrumbs, not to mention the cute crisp discs with the cross, which is a bit like a biscuit to complete the presentation. Ingredients: 1.5kg apples 1 cinnamon stick 80g sugar 6 Phillippa's Hot Cross Buns 60g butter  50g brown sugar Cream, whipped with cinnamon to serve Method: Peel, core and slice the apples, and cook gently with a little water and the cinnamon stick, until it becomes a smooth, thick puree. Sweeten with white...