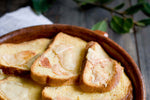 Recipe From Phillippa's Home Baking 
This was invented one day when there was a lot of leftover Italian panzanella salad. It was served in a terracotta dish at lunch which went into the oven with a roast that night. The result was stunning. The ripe tomatoes and olive oil had soaked through the bread so the bottom half was thick and sauce-like and the top crisp and deep golden. It makes a great accompaniment to BBQs and roast meat and works best when using really ripe tomatoes, preferably home grown heritage tomatoes.
Ingredients:
8 ripe medium tomatoes, cored and roughly chopped into large chunks
1 clove garlic, finely chopped (optional)
½-1 teaspoon salt
300g two day old bread, roughly torn onto 2-3 cm square pieces
Phillippa's Pane Toscano is perfect for this dish
75ml extra virgin olive oil
½ teaspoon fresh thyme or chopped basil leaves
Method:
Place the chopped tomatoes into a large bowl add garlic (if using) and season liberally with salt. Set aside for 20 minutes while the salt draws the liquid from the tomatoes.
Add the bread to the tomato mixture and pour over the oil. Add the herbs and mix everything together, then tip into a medium oven proof dish. Cover and leave to soak for an hour or so. Pre hear the oven to 190°C/170°C fan.
Place the dish on the centre shelf of the oven and bake for 40 minutes or until the top is crisp and golden. Serve while hot.