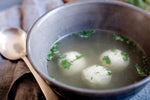 The Italians know how to turn yesterday's bread into today's feast. These dumplings with breadcrumbs are delicious served in this light broth, but they can also be topped with butter and cheese and baked in the oven like gnocchi alla Romana. 
Here is one of Phillippa's favourite family recipes. Use good white bread, but preferably not sourdough as the flavour can be a little strong.
Ingredients:
60g chopped pancetta
2 Tbs chopped chives, plus extra to serve
1 small clove of garlic, peeled
2 eggs
120g pecorino, finely grated, plus extra to serve
120g fine fresh white breadcrumbs
freshly ground black pepper
chopped flat-leaf parsley, to serve (optional)
Chicken Broth:
1kg chicken bones
1 carrot, chopped
2 sticks celery, chopped
1 onion, chopped
5 peppercorns
2 litres water
salt (optional)
Method:
Start with the chicken broth. Place the chicken bones, vegetables, peppercorns and water in a large saucepan and simmer very gently for 2 hours, skimming off any impurities that rise to the surface. Strain, discarding the solids. Taste and season with a little salt if needed, then pour the broth into a clean medium saucepan.
Place the pancetta, chives and garlic in a food processor and blend to paste. Add the eggs, pecorino, breadcrumbs and pepper and process until the mixture forms a ball. Using clean hands, shape into 2cm balls.
Heat the broth over medium heat until simmering. Using a slotted spoon, gently lower the dumplings into the broth and simmer for about 5 minutes, using the spoon to roll the dumplings around. As soon as they rise to the surface they are ready.
Spoon the dumplings into warmed bowls, ladle over the chicken broth and garnish with a little pecorino, chives and parsley (if using). Serve immediately.