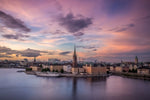 Taking stock of Sweden
Interview with Phillippa Grogan: [My favourite travel destination is] Sweden. I've been to the capital, Stockholm, twice and I'd like to discover more. The city stretches across fourteen islands, and I love its architecture, light and food. It's European but distinctively unlike what you usually find in countries like France and Italy. So, when I go to these more northern, exotic places, I find them refreshingly different.
People look different and I like their aesthetic. I also like their creative approach to managing their challenges – such as avoiding getting miserable during their long, dark winters. It's something we don't have to think about. One way they achieve this is to light distinctive candles in their shops and homes. If you visit a bakery in Stockholm, they'll invariably have a candelabra, with candles burning, on the counter of the shop – all the time. They also have a warm light hanging in the window of the shop, to draw people in. The climate dictates that they live behind closed doors through the winter then, the second spring arrives, they celebrate being outdoors.
I noticed that they enjoy eating plenty of eggs, dill, sour cream, and smoked salmon and because they are challenged by not having an abundance of fresh fruit and vegetables, they really make the most of the ingredients they have easy access to, using many spices, berries and nuts. Another Swedish tradition that I enjoy is their full-on afternoon tea, with cakes and buns full of marzipan and cream, and coffee. They are totally set up for this in their cafes and it's interesting because they are, on the one hand, very focussed on eating healthy foods like whole grains, rye and seeds in their breads, porridges and cereals, and then they have these amazing, big afternoon teas, to keep them going through their cold, dark days.
Phillippa's top tip for travelling in Scandinavia
Wear really comfortable shoes. Always take a raincoat. And wear a thin, merino wool singlet as a base layer.
Something Phillippa always packs
I always pack a scarf when I go away. I pack a very thin scarf to keep in my handbag so that if it's cool, I can wear it around my neck; and if I go into a church, I can wear it around my shoulders. Wearing a scarf makes you look a bit more elegant, too, I think. My favourite local brand is Cosi Textiles,  known for their luxury, sustainable,  handwoven, Mongolian cashmere  in incredible colours. I also pack lavender oil because it's a great antibiotic and it helps me sleep. I always pack a preventative cold medicine, called Ease A Cold, Cold and Congestion, which contains Echinacea, Zinc and Valerian.
A travel disaster or near miss
On the opposite end of the spectrum, my highest point in terms of travel was when I took our three kids, aged three, seven, and 10, to live in a hamlet in the south of France for three months. We arrived at Easter, and I put them into a local school there. On the same trip, in Paris, we visited one of my girlfriends and used her car to drive around Paris looking at all the landmarks featured in the Madeline [a series of books which followed the daily adventures of Madeline, a 7-year-old girl attending a boarding school in Paris with eleven other girls, under the care of their teacher, Miss Clavel]. We sent the photos of the children in front of the landmarks back home to friends. I also enjoyed the moment in Paris when I was dragging my reluctant seven-year-old son through the Musée d'Orsay and he was suddenly so excited to see the painting "Whistler's Mother" because at that time he had been obsessively watching "Mr Bean" episodes, and "Whistler's Mother" had featured in one of Mr Bean's comedy sketches. It grounded an otherwise boring experience for him.
Somewhere on Phillippa's bucket list
I'd like to travel to Eastern Europe and visit Serbia and Croatia and Albania. I'd really like to go bush walking in Albania, following in the footsteps of my 19-year-old daughter who visited Eastern Europe and I am envious of her photos of the stunning countryside. Albania is not too widely travelled and not too expensive, either. I'd also like to follow in my daughter's footsteps and visit Morocco, too. At the moment, I seem to travel vicariously, through my daughter.
About Phillippa Grogan
Phillippa Grogan's passion for food helped support her through university as she worked in catering while studying for an arts degree at Melbourne University. After living in London for nine years and working at Clarke's, an award-winning, food store and bakery, Phillippa returned home in in 1994 to open
her Armadale store.
By 1999, the bakery had outgrown its Armadale premises and Phillippa's opened a wholesale bakery in inner-city Richmond that produces breads, pastries and a grocery range. Throughout this expansion, Phillippa's has remained true to its founding principles, using traditional methods and natural ingredients to keep alive the time-honoured arts of pastry, bread and preserve-making, always with the emphasis on great flavour. Breads are made from time doughs, sour doughs and organic flours using natural fermentation processes. Inspired by family
recipes and the traditions of CWA [Country Women's Association], pastries and provisions are made just as they would be made in the home using quality natural ingredients which gives them a distinctive flavour and texture. They are made on site in her Armadale, Brighton and  Richmond Bakeries and supplied to select Victorian and national stockists.
Phillippa's is a partner of theStephanie Alexander Kitchen Garden Foundation, which aims to develop life-long healthier eating habits in children by engaging them in growing, harvesting, preparing and sharing delicious and healthy food. Phillippa's supplies bread to many of the Victorian primary schools involved in the program.
Main image: Raphael Andres on Unsplash