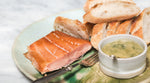 We were given a 'kiwi sizzler' fish smoker, which is very easy and fun to use. It is a portable stainless-steel box with a burner fuelled with metho and uses wood shavings. Similar smokers are available under various brand names. If you have a smoker or plan on getting one, try this great Hot Smoked Salmon recipe:
Ingredients
400g boneless fresh sustainable salmon, skin on, i.e. Ora King
2 tbsps dark brown sugar
2 tbsps kosher salt
1 tsp each fresh coriander seeds and fennel seeds, ground
Method
Blend together the dry ingredients, rub over the flesh of the salmon. Leave refrigerated for 2-3 hours.
Scrape off the rub and pat dry. Lightly oil the skin to prevent it from sticking and follow the smoker instructions, mine takes around 10 mins.
Serve with a crusty Phillippa's Baguette or Rye Sourdough, salad and a dill mustard sauce or sour cream and lemon.