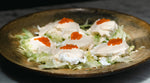 Indulge in this lovely egg-in-a-nest recipe during Easter festivities or whenever you want to impress friends. 
Ingredients
6 eggs

200ml crème fraîche

salmon cavier

iceberg lettuce

2 tbsp white vinegar

1 tsp salt

1

tsp sweet paprika

1⁄2 tsp flaked salt

3 tsps lemon juice
Method
Poach eggs in simmering water with vinegar and salt. Drain and refrigerate. Mix crème fraîche, paprika, flaked salt and lemon juice, and chill.
Place the eggs on a bed of shredded iceberg lettuce, either in individual dishes or on one large serving platter. Divide spiced crème into six and blanket each egg. Top with caviar. Serve chilled with crusty baguette or sourdough.