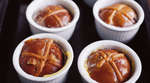 Lovers of Bread & Butter Puddings will really enjoy these flavoursome Hot Cross Bun & Butter Puddings!
Ingredients
115g sugar
3 eggs
185ml milk
500ml cream
½ vanilla bean, split & scrape seeds
Zest of 1 lemon or orange
6 Hot Cross Buns (about 100g each)
50g currants
50gm unsalted butter
Individual ramekins about 100-150ml each
Method
Preheat oven 10 120°C
Mix sugar, eggs, milk, cream, vanilla bean and zest for the custard. Strain through sieve and put in a large jug.
Slice the buns into three circles, using the top of the buns to make the lid for the ramekins. Cut the bottom third into quarters. Save the middles for toast.
Butter the ramekins and put 3 or 4 pieces of bun into the bottom of each.
Divide the currents between the ramekins. Pour custard, leaving about 1cm from the top.
Push the lids on so that they are covered by the custard and leave for at least half an hour to soak it up (preferably longer). Top up with a little more custard if required. Leave for 20 mins to absorb the custard.
Place ramekins in a large baking dish half-filled with hot water and bake 60 – 75 minutes until set.
Serve immediately. Serves 6.