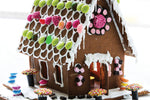 Recipe From Phillippa's Home Baking
Ingredients
2 egg whites
400g icing sugar
1 ½-2 tbs lemon juice
Method
Beat egg whites with a whisk until soft peaks form.
Gradually add the icing sugar and slowly add them lemon juice until the desired consistency is formed and blend until smooth.
Place icing in a bag with a fine nozzle and pipe. Allow a few hours to set, overnight if possible.
Use to assemble and decorate gingerbread houses.