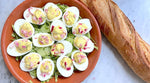 Devilled Eggs are easy to make and add a sophisticated, old school touch to any menu. Here are a couple of ways to make them - with a creamy dill stuffing and sprinkled with pickled red onions or caviar. Enjoy one or the other, or serve both and impress your guests!
Ingredients 
8 large eggs-hard boiled
1 large Tbsp chopped fresh dill*
100g crème fraiche (or sour cream)
Salt and pepper
2 Tbsp finely diced red onion
1-2 Tbsp wine vinegar (white wine or champagne vinegar)
Nigella seeds, optional
*mustard powder, curry powder or other soft herbs (chives, chervil, parsley) can be used in place of dill.
Method
To boil eggs: Place eggs into a pot of warm water (this should prevent them from cracking) and bring to the boil, then simmer for 5 minutes. Drain, cover in cold water. Refresh once (keeping water cold will stop eggs from cooking and turning grey) and crack the eggs against the side of the pot to help release the shell from the egg. When cool, peel.
Soak the red onion in the vinegar for 5 minutes, and drain.
Slice eggs in half longways. Remove yolk and mix well with crème fraiche and dill, and salt and pepper to taste. Check for seasoning (it should be pleasantly salted).
Place egg whites into a bowl of cold water until ready to use (this will clean them).
Drain the whites on a clean tea towel. Place eggs yolk mixture into a zip lock bag and cut a corner off, about 1cm wide opening. Pipe filling into the whites, piled high. Refrigerate.
Sprinkle with drained red onion and a few nigella seeds before serving on a bed of shredded lettuce. Or serve with a small spoonful of caviar on each egg.
 Serve with 100% Rye Sourdough or a crusty Baguette. Serves 4.