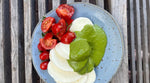 This Herb Sauce is so good, it makes everything taste fabulous.
Serve it with BBQ lamb and a baguette or buratta cheese and toasted Pane Toscano. It's also good served with fish or chicken.
You can also try it with iceberg lettuce wedges or diced, salt-boiled potatoes, and some chopped green beans, finished with parmesan or toasted pine nuts!
Ingredients

1 cup parsley leaves

1 cup spinach (tightly packed)

1⁄4 cup tarragon or basil

1⁄4 cup minced chives

1 clove garlic chopped

2 salted anchovies

60ml lemon juice

20ml white wine vinegar

1⁄2 cup olive oil

1⁄2 cup pure cream

Salt & pepper
Method 
Blend everything (except the cream) together until smooth.
Add cream and stir through, taste, and adjust seasoning.
Store 1–2 weeks refrigerated.