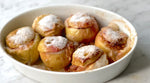 This Baked Apples Stuffed With Honey-Spiced Crumbs dish can be whipped up easily with a few simple, delicious ingredients. 
Our Honey Bunnies and Honey Bear biscuits add a depth of flavour to both sweet and savoury dishes, so you may want to keep a couple of packets handy in your pantry!
Ingredients
Method
Slice 1cm off the top of each apple. Using a corer, remove the core leaving the base intact, about 1 cm.
Place apples in a buttered baking dish.
Press 1 tsp butter into each apple cavity then crumble in the biscuits. Adding remaining butter on the top of the crumbs. Sprinkle sugar over the apples.
Bake at 200°C for 25 minutes until golden and cooked.
Serve warm with cinnamon or orange-flavoured whipped cream or ice cream.