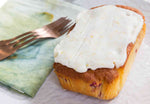 As the name implies, tea cake is cake to have with tea - not too rich, not too sweet; often quite simple and plain. Tea cakes require little time to make and are based on everyday ingredients. We make this cake regularly in our Armadale kitchen, but it is particularly popular in Winter, when oranges are at their best, and around Christmas, when the combination of cranberries and orange suits festive occasions. 
Ingredients
190g butter, softened
210g caster sugar
3 eggs
190g plain flour
1 tsp baking powder
150g fresh or frozen cranberries
finely grated zest of 1 orange
100ml freshly squeezed orange juice
Method
Preheat the oven to 180. Line the base of a 21.5 cm x 11.5 cm loaf tin with baking paper and butter and flour for the sides.
Cream the butter and 150g of sugar in a large bowl until light and fluffy. Add the eggs one at a time, beating well between each addition. Add the orange zest and mix well.
Place the flour and baking powder in a large bowl and mix with a whisk. Add to the creamed mixture, along with the cranberries and half the orange juice, and gently fold through.
Pour the batter into the tine and bake on the centre shelf of the oven for 45-50 minutes or until a skewer inserted in the centre comes out clean. Remove from the oven and rest in the tin for 5 minutes, then turn our onto a wire rack to cool.
While the cake is baking, make a syrup by combining the remaining sugar and orange juice in a medium saucepan and stirring over medium heat for 5 minutes or until thickened. Bruch the warm syrup over the cake while it is still warm. Allow the cake to cool completely before cutting into thick slices and serving with tea.
The cake will keep in an airtight container in a cool place for up to 5 days.