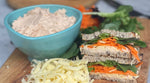 This White Bean Chilli Tuna Spread is the easiest, most delicious, and tastiest sandwich spread you will ever make! 
Phillippa has adapted this recipe from a dear wine-maker friend, Adam Marks.
You can vary the consistency by adding more lemon juice or a little liquid from the beans, which makes it a great dip. My recipe is made with Sirena tuna with chilli in oil, but it can also be made with plain tuna in oil.
Ingredients 
185g tin Tuna in Chilli Oil, entire contents
400g tin White Beans in brine/salt, ie cannellini, drained
juice ½ Lemon
Salt & Pepper, season as desired
Method
Blend together to a puree, adjust with liquid if a runnier consistency is required for dipping.
Store refrigerated in an airtight container for up to 10 days.
Sandwich suggestion
It is particularly good as a 'toasted' sandwich on Wholewheat and Honey bread.  Toast together 2 slices of bread, so that the outsides only toast and the insides are soft and moist. Layer with green leaves, grated carrot and grated (smoked) cheddar. Sliced tomatoes and mayonnaise optional. A little pickled onion or cucumber is a nice addition.
Dip suggestion
Make this up slightly runnier, ie an extra tablespoon of liquid, and serve with crackers, cucumber, celery carrot sticks.