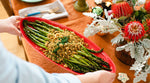 Add this Asparagus with Crunchy Lemon-Herbed Almond Crumbs to your Summer feast.
Ingredients
750g asparagus, trimmed

160g fresh sourdough, cubed (crusts removed)

½ cup whole almonds, or hazelnuts

3 tbsp Salute olive oil

1 tsp lemon zest

½ tsp flakey Nordur salt, (pref licorice)

Pepper ¼ cup parsley
Method
Using a food processor, chop and blend bread, almonds, salt, zest, pepper and herbs. Mix with 2 tbsp olive oil. Spread on a large tray.
In a separate tray toss asparagus in remaining oil and a little salt. Bake for 12-15 mins until asparagus is still green and firm, and crumbs are toasted and golden.
Stir both trays halfway during baking.
Arrange asparagus on a platter and sprinkle the crumbs over the top. Drizzle with vinaigrette and serve.