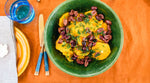 Orange and Olive Salad is a personal favourite for Phillippa. She could eat this all day long! The ideal olive is a 'Volo' but they have become difficult to find.
Ingredients
8 navel oranges

200g Salute kalamata olives in brine - halved and pitted

3 tbsps Salute extra virgin olive oil

Fresh chopped Dill, optional
Method
Using a sharp wide bladed knife, remove all the skin and pith from the oranges. Slice each into 6-8 rounds. Place in a bowl with the olives and dill. Chill.
Drizzle with olive oil and serve. Delicious with ham, duck or turkey.