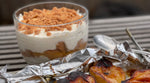 This Yoghurt Cream is Reminiscent of a Ukrainian Honey Cake - the yoghurt giving it a lovely balanced tang. It can be served with poached apples or stonefruit.
Ingredients
3 firm pears halved and cored

1 packet Honey Bunnies or Honey Bears biscuits (200g)
About ½ cup 'Bloody Good' honey

 

1 cup Greek yoghurt

1 cup pure cream, whipped

 

1 tsp pure vanilla

1 tsp finely grated orange zest, optional
Method
Placed halved pears face down in a large fry pan. Cover with water adding a tablespoon honey or sugar. Add some vanilla bean, star anise or cinnamon stick if you like.
Simmer for 8-10 minutes until pears are tender when poked with a knife. Remove from water. (You can boil this liquid down and drizzle it on the pears when serving if you want.)
While these are cooking fold the yoghurt and cream together with 1 tbsp honey and flavourings. Chop or crush the honey biscuits. Layer the biscuits into the cream in a pretty dish so there is a base layer, middle and top. Leave a few hours or preferably overnight before serving.
Place pears cut side up in an oven dish and drizzle each with about 1-2 tsp honey. Bake 200c fan for 15 -20 minutes or until golden and burnished.
Serve pears and Ukrainian Yoghurt Cream to hand around. (Serves 6)