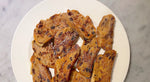 Hot Cross Bun French Toast is the perfect Easter breakfast for those who love French Toast and Hot Cross Buns! Here's an easy recipe from Phillippa that you're sure to enjoy.
Ingredients
3 eggs
2 Tbsp caster sugar
280ml milk
4 Hot Cross Buns, each cut into 5 slices
Pinch saffron (about ½ tsp), soaked for a few minutes in 1 Tbsp boiling water

 

Finely zested ½ lemon
60g butter for cooking
Extra caster sugar to serve
Ice cream to serve
(1 teaspoon vanilla essence and 1 tsp orange zest, can replace saffron and lemon)
Method
In a large bowl make the custard by whisking the eggs, caster sugar, milk, saffron water and lemon zest.
Heat about 2 tsp butter in a fry pan on medium. 
Cut the buns into 5 slices, cutting across the bun. Soak the bread in the custard turning briefly to coat both sides of the bread.
When the butter is sizzling, lay pieces in a single layer and cook each side until lightly golden. Add more butter for each batch.
Pile high onto a large plate, dusting each layer with caster sugar and when all are cooked, place scoops of ice cream on the top.
Take to the table and share. Serves 5.