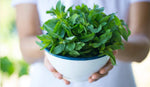 This is based on a recipe from In the Kitchen by Allan Campion & Michele Curtis. I love it because it requires very minimal prep, has no onion or garlic and is a long slow cook - so it is suddenly ready and you don't feel like you've been cooking. Making it all the more enjoyable!
I like to serve it with crusty bread and a spinach salad. It is also delicious with barley or couscous.
Ingredients
6 lamb shanks
1½ tsp harissa
2 tsp ground cumin
1 tsp smoked paprika
½ tsp allspice
⅓ bunch coriander inc roots, chopped
½ cup mint leaves
625ml (2 1/2 cups) chicken stock
375ml (1 1/2 cups) tomato sugo
pepper & salt
oil
Method
Preheat oven 180°C/160°C fan.
In a heavy oven proof saucepan heat oil and brown shanks on all sides and season well. Add remaining ingredients, stir well. Cover and cook in the oven for 2 hours or until lamb is falling off the bone. Sprinkle with mint.
Serves 4–6.