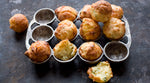 These delightful little Cheese & Chive Gems are great with soup and in lunchboxes, and they are particularly delicious split and filled with iceberg lettuce, tomato and a smear of good whole-egg mayonnaise (preferably homemade).
You can cook these in an old-fashioned gem iron (check online or in second hand shops) or a small muffin tray. 
Ingredients
1 egg
About 200ml milk
150g self raising flour
125g strong cheddar, grated
2 Tbsp finely chopped chives
2 tsp finely chopped flat-leaf parsley
70g chopped ham (optional)
butter, for brushing
Method
Preheat the oven to 220°C/190°C fan. If you are using a gem iron, put it in the oven now to warm up. If using a small muffin tray, the cooking time may be a few minutes longer, as there will be less heat stored in the thin metal of the tray.
Place the egg in a measuring cup and beat with a fork, then top up with milk to make 250ml.
Put the flour in a bowl, add the egg and milk mixture, cheese, chives, parsley and ham (if using). Mix well with a wooden spoon to form a thick batter. (Alternatively, make the batter in a free-standing mixer with a paddle.)
Remove the gem iron from the oven (if using). Put a good knob of butter into one of the compartments and allow to melt. Use a pastry brush to brush all the moulds or holes in the muffin tray well with butter, leaving a generous little puddle in the base of each (this will prevent the gems from sticking). Drop about a tablespoon of batter into each mould so they are about two-thirds full.
Bake on the centre shelf of the oven for 10-12 minutes or until puffed and golden.
Allow the gems to cool for a few minutes, then turn out into a clean tea towel to keep warm. 
Gems are best eaten the day they are made, but can be stored in an airtight container in the fridge for several days. Reheat before serving.