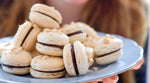 Inspired by a recipe from Yotam Ottolenghi, Phillippa's daughter Sophie created these devine Peanut and Salted Chocolate Macarons.
Ingredients
165g soft icing sugar
90g finely ground almonds
3 egg whites
60g caster sugar
30g finely chopped lightly roasted peanuts (other nuts can be used)
60g cooking chocolate (70% cocoa), roughly chopped
30g salted cultured butter, roughly chopped
pinch of salt (optional)
Method
Preheat the oven to 170oC/ 150oC fan.
Sift the icing sugar and ground almonds together into a bowl.
In another bowl, using a whisk or electric hand-held beater, beat the egg whites with the caster sugar until stiff peaks form but the mixture is not dry.
Gently fold the egg white mixture into the almond mixture in three batches, ensuring each batch is thoroughly mixed through before adding the next. The macaron mixture should be smooth and glossy. Spoon it into a piping bag fitted with a 10mm nozzle.
Line a large baking tray with baking paper, sticking the paper to the tray with pea-sized dots of the macaron mixture (it will act like liquid glue).
Keeping the end of the nozzle about 5mm from the tray, pipe out a small amount of mixture about the size of a 20 cent piece and 8mm high. Continue piping, leaving a few centimetres between each one as they will spread a little. In all, you will need to pipe around 36 rounds. Sprinkle half the rounds with a little of the chopped peanuts. Gently but firmly tap the tray o the bench to remove excess air and help the macarons spread. Allow to dry on the bench for 15 minutes before baking.
Bake on the centre shelf of the oven for 12 minutes or until the macarons are lightly coloured and can be lifted up from the tray. Do not overbake or they will be dry. Allow to cool completely on the tray before moving to a wire rack.
 Place the chocolate and butter in a heatproof bowl set over a saucepan of simmering water - make sure the base of the bowl does not touch the water - and mix together as they melt. Remove from the heat, stir in the salt (if using) and cool to tepid.
Spoon a small amount (less than half a teaspoon) of the chocolate filling into the centre of the plain macarons and sandwich with the peanut-topped macarons, matching the sizes as best you can. Squeeze together gently, then leave to set for about an hour. 
Macarons will keep in an airtight container for a few days.