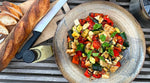 This is a lovely red and green salad for the festive table. The vegetables are lovely oven baked or you could grill the vegetables on the BBQ.
Ingredients
4 courgettes
2 red peppers
Olive oil
12 baby plum tomatoes, halved
1 tsp fresh oregano (or thyme) chopped
3 thick slices of Phillippa's sourdough, crusts removed
200g haloumi
2 tbsp basil  
Zest of ½ a lemon
Method
Heat the oven to 180C, fan. Cut the courgettes into 2cm dice. Cut peppers into 2-3cm pieces. Place courgette and peppers in a bowl, drizzle with a little oil, sprinkle with oregano and season well with salt and freshly ground pepper. Transfer to a large baking dish and roast in the oven in a single layer for 30-40mins, or until cooked, tossing occasionally.
Meanwhile, cut the slices of bread into 1cm squares. Heat 2 tbsp oil in a frying pan over a medium heat and, when hot, add the bread and toss frequently until the bread is crisp and golden. Drain on kitchen paper. Dice haloumi, fry in oil.
To serve, toss the bread, basil and lemon zest with the roasted vegetables, tomato, haloumi and vinaigrette. Serve immediately.
Serves 6.