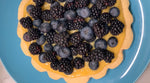 This Lemon, Black & Blueberry Shortcake is a fresh and vibrant Summer dessert that you can easily whip up and add to your festive table. 
Ingredients 
1 Shortbread Round
½ jar Phillippa's Lemon Curd (available in stores)
1 punnet each of blackberries and blueberries, washed
30g green pistachios
Whipped cream or crème fraiche to serve
Method 
Spread lemon curd on shortcake and allow to sit for at least 2 hours in the fridge.
Pile high with berries and dust with a little icing sugar using a sieve.
Sprinkle with pistachio and serve in wedges with cream.