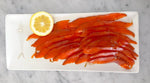 My simple Treacle-Cured Salmon recipe is based on Down the Cove in Cornwall, UK. This delicate and vibrant dish is sure to impress your guests! 
Ingredients
1kg side of Salmon, with skin on
160g Treacle, slightly warm
2 tsp Fennel Seeds, crushed
2 Lemons, zested
100g Rock Salt
2 tbsp English Mustard
4 tsp cracked Black Pepper
Method
Cover a tray with greaseproof paper. Place the salmon onto the tray, skin side down. Mix all of the ingredients together. Pour the mixture over the flesh of the salmon and coat well. Cover with cling film and place into the fridge. Cure for 2 days.
Remove from fridge, pat with kitchen paper to remove excess moisture. Slice thinly and serve. This dish is best served with 100% Rye Sourdough, sour cream and finely diced red onion.
Enjoy!