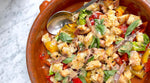 This recipe is great for those who love the flavour from BBQ cooking. The capsicum adds a lovely sweetness and the Pane Toscano adds a great crunch. It's a handy recipe to have when you need to whip up a salad at your next BBQ!
Ingredients
2 sliced red capsicum
2 sliced yellow capsicum
3 thick slices of Pane Toscano (drizzled with oil)
2 Tbsp oregano or basil
5 anchovies in oil, halved
Method
BBQ the capsicum and Pane Toscano (available in store). Toss together with herbs and Phillippa's Red Wine Vinaigrette.
Lay anchovies over the top and serve.
It's that easy!