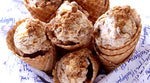 This is incredibly easy Mince Pie Ice Cream is ideal for our warm Christmas weather. 
The recipe was shared with me by my great friend Lynne, who loves entertaining!
Ingredients
½ doz Phillippa's Mince Pies (no others will do!)
1 litre quality or homemade vanilla ice cream, softened
Method
Crush mince pies to resemble coarse breadcrumbs (ie. in a food processor) and fold them into ice cream. Re-freeze.
So very simple, I like to serve this in pretty tea cups on saucers with warm Caramel Brandy Sauce, but it can also be drizzled with Pedro Ximénez Sherry or Muscat. Or serve it to the kids in waffle cones. They will love it!
The stars on the mince pies can be removed first and reserved for decorating.
Optional, serve with shredded candied orange peel for extra flavour.
Enjoy!
Phillippa