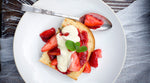 Everyone can serve themselves at the table with this simple Strawberry Panettone Breakfast Trifle. It can all be prepared in advance and kept refrigerated. 
Ingredients
½ whole panettone, cut into slices
a jug of vanilla crème anglaise
a jug of strawberry sauce
a bowl of cut up berries

 

lemon
and a bottle of marsala - optional!
Method
Make vanilla crème anglaise and strawberry sauce - see below.
Cut panettone into large slices of even thickness. This can be done at the table if using a whole panettone. If it has already been cut into then serve pre-cut slices at the table. Panettone can be cut in ½ and then with the flat cut surface face down cut into even thickness 1½ cm slices. Remove ends and you will have slightly varying sizes. If serving at the table guests can decide if they want large or small portions.
Serve all ceremoniously at the table. Panettone can be first drizzled with marsala if desired. Serves 6.
Vanilla crème anglaise
1 vanilla bean, split and scraped

 

500ml full cream milk, gently heated with vanilla

 

4 egg yolks
3 Tbsp sugar

 
Whisk the yolks with the sugar until pale. Blend in the warm milk and cook over gentle heat, stirring with a whisk or wooden spoon until the custard coats a thin layer on the back of a metal spoon. Remove from heat. Strain and cool but return vanilla to the custard until ready to serve. This can be stored for 2 days.
Strawberry sauce
500g strawberries, washed
3 Tbsp sugar
lemon
Make a berry sauce by pureeing 250g berries with 3 Tbsp sugar and a squeeze lemon juice. Refrigerate.
Slice or quarter remaining berries and put in a pretty bowl or jug ready to serve.