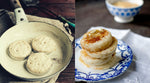 Crumpets are entry-level yeast cookery. The batter is very easy to put together. I usually mix the batter and leave it in a warm place for an hour or so before cooking. I mix it in a wide-necked jug so that I can easily pour it into rings, and I often replace half the plain flour with wholemeal flour.
You will need crumpet or egg rings, however you can still make them without the rings - they will just be more like pikelets in size and shape.
Ingredients
175ml milk
175ml hot water
½ tsp dried instant yeast
225g plain flour
3/4 tsp table salt

½ 

tsp baking powder
butter, for cooking
Honey butter
125g cultured butter, softened
160g strong-flavoured honey
Method
In a warm bowl or wide-necked jug, mix the milk with the hot water. The resulting liquid should be lukewarm, around 28°C. Dissolve the yeast in the liquid, then add the flour and whisk together to form a smooth but runny batter the consistency of thick cream. (Alternatively, use a free-standing mixer for this.) Work the whisk around the edges of the bowl and run a spoon around the base and corners to make sure all the flour is blended through.
Put the bowl or jug in a plastic bag and leave in a warm place for 1-1½ hours or until the surface is quite bubbly. In the summer it may only take an hour but in winter it could take 2 hours - it will depend on the ambient temperature.
To make the honey butter, cream together the softened butter and honey in a bowl. Cover and refrigerate until needed.
Take crumpet or egg rings and grease well with oil or a little butter. Heat a heavy-based frying pan over medium heat. Finish the batter by whisking in the salt and baking powder until well blended.
Grease the pan with a little butter. I always make a test crumpet before proceeding with the rest. Place one ring in the pan and pour in enough batter to reach the two-thirds mark. After a minute or so holes should appear on the surface.
TIP: If holes are not forming, the batter could be a little too thick, so whisk in a few tablespoons of warm water.
After about 5 minutes the crumpet batter should be set and ready to turn over. Flip with a spatula or egg flip and cook for a further 2-3 minutes or until golden. Remove from the ring and place on a plate. Cover with a tea towel to keep warm.
Repeat with the remaining batter, making a few crumpets at a time. Serve immediately with lashings of honey butter.
Crumpets will keep in an airtight container in the refrigerator for up to a week and can be toasted if not eaten fresh. Makes 12 small crumpets.
Enjoy!