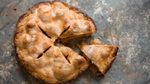 This is the simplest and most delicious way of making a good, old-fashioned Apple Pie - the way that our mothers and grandmothers used to make it! You can use granny smith apples or look for apple varieties in autumn at farmers' markets or heritage orchards, such as Bramley and Cox's orange pippin with their well balanced sweetness and tartness, and delicate floral aromas (they're often visually less perfect).
Ingredients
Brisee pastry
300g plain flour 
A good pinch of salt
225g cold butter, cut into 1cm cubes
85ml iced water
2 tsp lemon juice
Pie filling
1 kg cooking apples
½ tsp ground cinnamon
3-5 tablespoon sugar, depending on tartness of apples
1 egg yolk
1 tbsp cream
Method
Brisee pastry
Place the flour, salt and butter in a freestanding mixer with a paddle and mix until it resembles breadcrumbs. Alternatively, place the flour and salt in a cold glass mixing bowl and use your fingertips to rub the butter into the flour, or place the ingredients in a food processor using a cutting blade and pulse function.
Add the iced water and lemon juice and mix through until just blended. Do not over mix or the pastry will toughen and lose its potential to become light and flaky.
Gently form the dough into a rough ball, wrap in plastic cling film and refrigerate for at least 30 minutes before rolling out and using.
Tip:  The lemon juice is used to strengthen the gluten in the flour. 
Pie base
Preheat the oven to 190°C/170°C fan. 
Reserve about a third of the pastry for the top and form into a ball. Roll out the larger piece on a lightly floured surface to form a 32cm circle about 3mm thick. Allow the pastry to relax on the bench for a few minutes, then carefully roll it over a rolling pin and roll it out over a 23cm pie dish or tart tin (with a removable base if possible), leaving a good 2cm overhang, trim if necessary. Roll the smaller ball of pastry into a 28cm circle, then leave it to rest in a cool place.
Apple pie
Peel, core and quarter the apples and slice each quarter into 4 or 5, depending on size. Place in a bowl with the sugar and cinnamon and toss to coat. 
Pile the apples into the centre of the pastry shell and, using a pastry brush, brush a little water on the overhanging 2cm edges of the base pastry. Use the rolling pin to lift the smaller circle of pastry and gently lay it centred over the apple filling. Trim the pastry edges to 2 cm, then fold the outer edges of the top pastry around and under the base pastry edges and crimp together with fingers or a folk. This will give your pie a clean edge and prevent the pastry getting caught up in the edges of the tin during baking, which makes it more difficult to remove from the tin. This folded finished edge only needs to be ½ -1cm wide.
Whisk together the egg yolk and cream together and brush over the pastry lid - this will give the pastry a nice glaze. Sprinkle lightly with caster sugar and make 4 small cuts in the top of the pie to allow steam to escape.
Place the dish/tin on a baking tray and bake on the centre shelf for 30 minutes. Reduce the temperature to 180°C/160°C fan and bake for a further 20 minutes or until apples are cooked (insert a skewer - it should feel soft) and pastry is golden. 
Remove from the oven and serve hot with pure cream or good vanilla ice cream. The pie will keep in the refrigerator for several days. Serves 8.
Tip: If the edges start to colour too much cover them with foil to prevent them from burning. 
You can find Phillippa's Apple Pie and Brisee Pastry recipes and more information in her cookbook, Phillippa's Home Baking - written with Richard Cornish. We often make this wonderful pie - large and small - at our Armadale store.
You can also listen to Phillippa being interviewed on ABC's Foodie Tuesday: Baking pies with Phillippa Grogan.