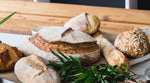 As a baker and a lover of bread, I sometimes find myself with a little too much bread on my hands. I can't stand waste, and the thought of throwing out good, properly made bread particularly upsets me. All that love, time and effort! It is bad for the environment and a waste of resources.
There is an inherent logic and a rustic beauty in using bread as an ingredient. Indeed, some of the world's classic family dishes are based on using bread as a binder, filler, flavour or texture. Bread and breadcrumbs hold moisture; they extend more expensive ingredients, and add that crusty, yeasty flavour. When wet, they can become deliciously creamy like custard and, when baked, crisp and golden.
Breads that make tasty breadcrumbs include:
Campagnard
Corn
Pain de Mie
Pane Francese Naturale
Pane Toscano
Wheatmeal
I'd like to share with you how I make fresh and dried breadcrumbs, along with some suggestions on using them to enhance your dishes.
HOW TO MAKE FRESH BREADCRUMBS
Take stale bread and cut the bread into 1cm cubes. Place in a food processor and process to your preferred consistency.
By stale bread, I mean bread that is no longer good for sandwiches, but definitely not developing mould! Some breads last longer than others. Sourdough, for example, can remain fresh for a week.
Four slices of bread make roughly 2 cups of crumbs. 
For a deluxe version of fresh breadcrumbs, try my recipe for a great multi-purpose, everyday, absolutely delicious batch of Fresh Seasoned Breadcrumbs!
Suggestions for using Fresh Breadcrumbs
Fresh breadcrumbs can be used:
for crumbing meat and fish;
in pasta bakes or roast vegetable dishes;
as a crust on casseroles;
in cakes, puddings and dumplings; or
as the star ingredient in bread sauce.
HOW TO MAKE DRIED BREADCRUMBS
Preheat oven to 120°C/110°C fan. Place slices of bread on an oven rack and slowly toast for an hour or so until bone dry. Process in a food processor or place in a heavy duty plastic bag and crush into breadcrumbs using a rolling pin until the consistency you desire is reached.
Store in an airtight container for up to 6 months. 
Suggestions for using Dried Breadcrumbs
Dried breadcrumbs can be used for:
crumbing chicken, fish, veal, cutlets, prawns, scotch eggs, scallops and croquettes;
adding moistness to sausage rolls, rissoles and meatloaf; or
sprinkling over bechamel on a lasagna or a baked vegetable salad to make a crunchy topping.
Tip: For fine breadcrumbs, remove the crusts. For rustic dishes, leave them on.
Enjoy!