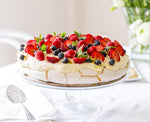 Phillippa's Pavlova is the ideal meringue dessert with a crisp crust and soft, light inside - best topped with whipped, pure cream and seasonal fruit.
Serves 10-12
Ingredients:
6 egg whites (can use frozen whites)
90ml cold water
470g caster sugar
2 tsp pure/natural Vanilla essence
2 tsp white vinegar
2 tbsp. corn flour 
Method:
Turn oven to 150c, 140c fan, with rack in the centre.
Beat egg whites until stiff but not dry in a scrupulously clean and dry glass or stainless-steel bowl.
Whisk in the caster sugar a third at a time. Depending on the speed of your mixer, this process could take up to 12 minutes.
When the sugar has dissolved, mix together the water, vanilla and vinegar, with mixer speed on low, add liquid slowly down the side of the bowl, then sprinkle the cornflour over the top and continue mixing until incorporated.
Place a sheet of baking paper on a tray.
Sprinkle with 2 tsp water, mound the mixture onto the tray, spreading it so that it is an even round shape and thickness about 5-6 cm high.
Bake for 1hr - 1.15 hrs until just starting to colour, turn oven off and leave to cool on the oven for about an hour.
Cover with whipped pure cream and berries or passionfruit. It's perfect on Australia Day or any day!