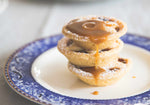 At the busiest time of year, it's hard to keep on top of everything. So here are some time-saving ideas for your Christmas feast:
Crush a packet of HONEY STARS and mix through 1.5–2kg seasoned, mashed pumpkin enriched with cream and sprinkled with roasted hazelnuts. Serve with pork, turkey or game.
Mix SPICED CRANBERRY ORANGE SAUCE with mayo or sour cream and toss through leftover turkey or chicken with toasted almonds for crostini or a baguette filling.
Chop any SPICED NUTS and add to salads or vegetables to increase their appeal.

Crumble SABLÉS over salads or vegetables to give crunch and extra flavour.
Serve TRADITIONAL PUDDING flamed in brandy with whipped pure cream and Caramel Brandy Sauce.
Serve BUTTER SHORTBREAD with a bowl of apricot or gooseberry compote and vanilla custard or crème fraǐche.
Use TRADITIONAL SHORTBREAD ROUND as a base for a quick blackcurrant shortcake - see recipe.
Crumble CRANBERRY SHORTBREAD and mix into softened vanilla ice cream with a little orange zest and re-freeze. Serve with our Caramel Brandy Sauce or sprinkle with toasted pistachios.
Serve STOLLEN sliced for breakfast, with coffee or after dinner.

Serve CARAMEL BRANDY SAUCE with Mince Pies, poached fruit, berries, crepes or Chocolate Brownie.
Serve our iconic MINCE PIES warm with Muscat flavoured 'zabaglione' and ice cream or alongside a chunk of blue cheese.
Leave your PLUM PUDDING to boil away 1-2 hours heating up in the bag and the flavour will intensify.
Decorate your table with a selection of decorated GINGERBREAD BISCUITS, Phillippa's Mince Pies and bowls of crystalized ginger, muscatels and almonds.
Make a Tiramisu using PANETTONE, dipping the slices into Italian Marsala.
Cut PANETTONE into slices, toast and serve with berries and mascarpone or crème anglaise.