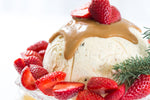 This Iced Mince Pie recipe from Phillippa Grogan is perfect on a hot Summer day. It only requires a few flavoursome ingredients and plenty of spoons to share it around!
Ingredients
6 Phillippa's Mince Pies (tip: our outlet in Richmond sometimes stocks 'seconds', ie not perfectly proportioned like the rest!)
1 litre Vanilla Ice Cream
Jar Caramel Brandy Sauce
2 punnets Strawberries
Method
Soften ice cream.
Finely chop Mince Pies and blend into soften ice cream. Re-freeze in a small 1.5 litre pudding shaped bowl for 1-3 days depending on your freezer. (Some freezers operate at -4c, others -18c)
To serve, briefly dip pudding in warm water and turn out onto a pretty plate.
Sit a jar of Caramel Brandy Sauce in hot water to slightly warm and stir.
Serve pudding with Caramel Brandy Sauce and strawberries.