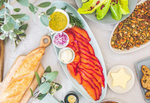 This simple cured salmon recipe is easy to make, tastes amazing and adds a vibrant touch to your festive table.
Ingredients:
300g raw beetroot, grated or purée
250g coarse salt
Zest 1 orange (fine)
1.5 bunches dill including leaves and stems
75g brown sugar
80ml vodka
3 dried juniper berries, crushed
1 kg side fresh salmon with skin, pin boned, rinsed and dried
Mix together sugar, salt, dill, beetroot, vodka, juniper berries, orange zest.
Put salmon in a large ceramic dish skin side down, cover with beetroot mix and massage into the flesh (use gloves to avoid staining skin). Cover with plastic wrap, place a tray on the salmon, weigh down with bags of rice or cans of tomatoes to help compress while curing. Leave for 2-3 days, drain off excess liquid each day as it accumulates (3 days curing will give a firmer flesh).
When ready, drain off all liquid, wipe off curing mix well with a paper towel.
Using a long-bladed knife, preferably a smoked salmon knife, thinly slice the flesh and place on a platter with Rye sourdough or Rugbrød and a selection capers, boiled quail eggs, chopped red onion, chopped dill or chives, lemon wedges, sour cream, crackers and Dill Honey Mustard Sauce.
Paired with our delicious bread, this Beetroot, Juniper, Orange & Vodka Cured Salmon is a quick and easy snack for holiday guests!