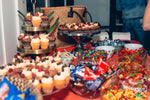 Spring is upon us and it's the perfect time for entertaining! The question is – do you spend the day making and baking yourself or simply order a delicious spread of food and sit back to enjoy it with your guests?
We recently had 130 teenagers at a joint 14th birthday party and, it was actually no big deal, so I am going to share my tips with you.
It helps if the family that your child partners with are absolutely committed to running the event in partnership with you, that will take away a lot of hostess stress (I was very lucky). They'll share the planning, invitations, shopping, troubleshooting, costs and set up and pack down.
Find the right venue for the number of attendees and make it beautiful with some decorations (we went to Astoria). If it's outdoor, hire a small tent for shade or wet weather (we are in Melbourne!).
A cosy room for dancing, an excellent DJ (we used Tongue and Groove) and ultra-voilet lights (we hired 2 from DJ Warehouse Hire) were all a hit with this crowd.
Lots of snacks like chips and lollies…lots of lollies (I quite like the Swedish sweets from IKEA).
Just enough food to keep them satisfied, which wasn't much actually – mini sausage rolls, mini focaccias (1/4 of our usual portion size or 1/4 pizzas) and mini cup cakes (chocolate and vanilla).
Set up a drinks stand with large bottles of drinks and environmentally-friendly cups with a marker to write names on. I was keen to make a point of not using plastic cups or individual bottles so this worked pretty well, and then I put the cups in the compost bin.
Hire a photographer to capture the fun (we used Tongue and Groove for this too).
Have plenty of adults from both families helping with crowd control and serving (we had 10 – 2 guys on the door and another on a chair in the back garden).
Pre-warn neighbours about the when the party starts and finishes (ours was 6.30-9.00pm). And if you like your neighbours, why not invite them in for a quick drink.
Have a theme (ours was Coachella) and have fun!
We had absolutely no drama, just a rubbish clean-up the following morning and putting furniture back followed by a decent floor mop!
Whether you're entertaining family, friends or teenagers, we've got plenty of tasty food to keep everyone happy…and probably coming back for more. Have a look at our catering menu and Party Time brochure for ideas. Enjoy the party!