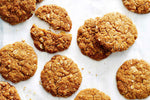 Recipe From Phillippa's Home Baking
When making these biscuits, consider lighter honeys, such as clover or blue gum.
Ingredients:
125g butter
1 tablespoon honey
2 ½ tablespoons water
100g rolled oats
215g caster sugar
150g plain flour
70g desiccated coconut
1½ teaspoons bicarbonate of soda
Method:
Preheat the oven to 180˚C/160˚C fan. Line several baking trays with baking paper.
Place butter, honey and water in small saucepan over medium heat until the butter has melted. Stir to combine, then set aside until the mixture has cooled to warm. Place remaining ingredients in a large bowl and blend well with a whisk or wooden spoon. Pour in the melted butter mixture and stir until all the ingredients are evenly combined but not over mixed.
Roll dessertspoons of the mixture into balls the size of a walnut. Place the balls on the baking trays, allowing plenty of room for spreading, and bake for 10-15 minutes or until the biscuits are lightly golden.
Allow the biscuits to cool on the tray for 5 minutes, then transfer to wire racks to cool completely. The biscuits will harden on cooling. Serve with a pot of tea.
These Honey Anzacs will keep in an airtight container for up to 6 weeks.
Image via taste