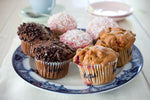 A good muffin with a cuppa is a lovely way to enjoy morning or afternoon tea. It's also a great snack for the kids. This recipe for Phillippa's Pear & Cinnamon Muffins makes 18 - plenty to go around!
Ingredients
260g self raising flour
275g caster sugar
1 tablespoon ground cinnamon
125ml grape seed or peanut oil
250ml buttermilk
2 eggs
2 pears, peeled, cored, quartered and each thinly sliced into 9
For the topping:
1 teaspoon ground Dutch cinnamon
1 tablespoon caster sugar
Method
Preheat the oven to 180°C/160°C fan. Line 2 muffin trays with 18 double patty pans.
Place all the muffin ingredients into a bowl (except pears) and mix together by hand or a mixer until it forms a smooth, pale and even batter. Do not over mix.
Tip: Use a spatula to clean down the sticky unmixed batter as you make the muffin mix as it tends to climb up the bowl.
Take a dessertspoon and fill each patty pan or muffin tray until two thirds full. Wedge 4 slices of the pear, skin side up, into the top of the muffin, to form a line of ridges.
In a cup mix together the ground cinnamon and caster sugar. Sprinkle this mix evenly over the muffins.
Bake for 25-30 minutes or until, when a skewer is inserted into the muffins, it comes out clean.
Leave to cool in the muffin tin. Serve just warm. Perfect with tea, coffee or hot chocolate.
Store in an airtight container for several days.