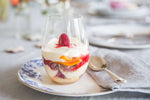 This pretty Peach Melba Trifle looks and tastes devine. Serve it in a large glass bowl or 12 individual glasses as a bright, delicious dessert.
For the Custard
250ml full cream milk
250ml pure cream
80g sugar
2 vanilla pods, split
6 egg yolks
Warm the milk and cream gently for 10 minutes with vanilla but don't allow it to boil. Mix yolks and sugar, pour the strained warm cream over and whisk over medium heat until it thickens enough to coat the back of a spoon. Do not allow it to boil or curdle. Remove from heat and cool.
For the Assembly
800g good poached peaches and 1/2 cup juice
1kg fresh or good frozen raspberries
5 Tbsp sugar
1/2 lemon juice
1 Phillippa's large sponge, cut into small squares
1 packet Phillippa's Hazelnut Macaroons, crumbled
3 Tbsp raspberry eau de vie, optional
Reserve 200g whole raspberries and puree the remainder with 5 tablespoons sugar and juice of 1/2 lemon. Stir 1/2 cup peach juice through the sponge with eau de vie. Spread the sponge pieces over the base of the glasses or large bowl. Then layer the peaches and half of the whole raspberries. Pour over most of the raspberry puree, sprinkle on 1/2 the crumbled macaroons and finally the custard. Decorate with some whole raspberries, a little puree and the remaining macaroon crumbs. Chill for 6 hours or overnight.
This Peach Melba Trifle does not necessarily need alcohol because the raspberries are so intense. It can be assembled in a large glass bowl or 12 individual glasses.