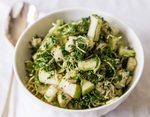 "This is absolutely one of our most popular salads and one of my favourites"; Phillippa.
Ingredients
1 bunch kale, 500g
250g brussel sprouts
3 pears
Juice 1 lemon
100g pecorino (or parmesan) cheese, finely grated
1/2 tsp salt & 1/2 tsp pepper
Salad dressing
2 tbsp maple syrup
3 tbsp balsamic vinegar
2 tbsp Dijon mustard
3 tbsp olive oil
Method
Mix the first 3 salad dressing ingredients in a jar until well combined. Add oil and mix well.
Shred the kale very finely.
Trim and slice brussel sprouts very finely with a mandolin.
Dice pears into 1cm cubes and toss in lemon juice.
Toss all ingredients together, including drained pear and seasonings.
Add dressing and serve. Serves 6-8.