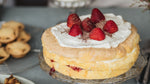 With the benefit of using a handful of our pre-made core ingredients, you could look like a professional when you serve up this Danish Festive Berry Sponge!
Ingredients 
1 Phillippa's Sponge Cake

300 ml pure cream, whipped to firm peaks

3-4 Phillippa's Hazelnut* Macaroons, very finely crushed

1⁄2 jar Phillippa's Raspberry

Jam or Phillippa's Strawberry jewels

punnet strawberries (about 10 large, hulled)

A few sprigs fresh redcurrants

4 tbsps very coarsely grated dark chocolate
Method
Fold crushed macaroon crumbs into the whipped cream. Keep chilled.
Using a long bread/ pastry knife, cut the sponge into 3 equal rounds, horizontally. Spread jam evenly to the edges of the base layer. Place the middle piece on top. Spread 2/3 of the cream over this layer, place the last piece on top. Spread remaining cream on top, decorate with whole strawberries and dark chocolate towards the centre and sprigs of redcurrants around the edge.
Refrigerate until ready to serve.
*The Danes use almond macaroons.