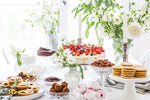 Christmas is one of the few times of the year that special pieces collected over the years can be dusted off, polished and have their time in the spotlight. They take up valuable real estate most of their lives, being set aside for 'special occasions'.
It takes only a little bit of forward planning to create a stunning table setting. If you don't usually use a table cloth, this in itself will set your feasting table apart. Phillippa's makes it easy for you to then simply decorated it with pretty bowls of 'Tid Bits'; glacé budrim ginger, clusters of muscatel raisins and brown skin almonds. A few packets of Iced Chocolate Star Biscuits or mini Iced Trees can be used to scatter along the centre of the table and our large decorated green and white trees can placed at each place setting. Add dishes of mince pies and chocolate truffles and you are ready for a memorable meal and might even get away with a side of smoked salmon, a sourdough boule, decent butter and a bowl of dressed salad leaves.
Then all you need to complete the festive atmosphere is some of the following:
A big bunch of Christmas lilies
Orange oil, clove, frankincense or myrrh burning in an oil burner
A real Christmas tree, for the evocative scent it gives
Small miss matched vases on the table with flowers either matching or contrasting with the table cloth or napkin colour
Set the table with your best cutlery
Tall candlesticks help create a festive atmosphere
And it's always worth checking the temperature to guide the mood you wish to create and the menu, because in reality it can be 16c or 37c!
---
Did you know? 
Did you know that tables were set with the fork facing down in households that wished to show off the quality of their silverware. This allowed the stamps to be on display. It would be obvious.