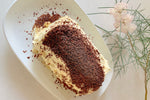 For lovers of Chocolate Ripple Log Cakes, you'll want to try this Butterscotch Oat Log!
Add a splash of whisky for the adults or let the kids enjoy it without. Either way, it's easy and fun to make, and will leave you wanting more!
Ingredients 
Method
Whip cream until thick, flavour with a little whisky if inclined.
Dip biscuits briefly into orange juice.
Sandwich biscuits with the cream and form into a log shape.
Cover the log with cream and leave refrigerated for at least 4 hours or over night.
Decorate with grated chocolate.
Cut on an angle to serve.